SMPP SMS Server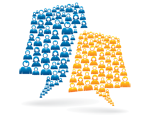 SMPP SMS ServerThe SMPP SMS Server API is often used by Enterprises and large organizations and businesses that need to be in continuous contact with their customers, no matter where they are in the world.
When developers search for an SMS Gateway, one of the reasons they turn to us is SMSGATEWAYHUB SMS APIs. These include the HTTP/S API, SMPP API, XML API. Fast, simple, reliable and built in such a way that they integrate with any system or application, all our APIs come with SMS example code and allow developers to create applications offering businesses online international SMS services – services supported by our reliable bulk SMS Gateway.
Send SMS using the SMPP API :
The SMPP SMS API sends messages extremely fast in real-time via a 24/7 authenticated connection to SMSGATEWAYHUB. Our SMPP connection is ideal if you need to send out a high volume of messages, at high speed, each month. To use this API you need specialist knowledge and the guarantee you will send a minimum of 5000 messages a month. You can set up Delivery Acknowledgement, Sender ID and Message Delay with the SMPP API and you can also set up credit usage limits so your customers don't exceed their budgets.With an SMPP API connection, your business is guaranteed the reliable, international service that SMSGATEWAYHUB is known for – and you can rest assure that your customer or systems are literally just an SMS away.

Read about our SMPP API in action
Rummble is a location based social search and discovery tool that enables users to find recommended content for a location more easily, without a traditional keywords search. They realized that SMS would offer the benefit of immediacy and allow them to push both alerts and content to any of their global users.
Features of SMPP API
Supports text, Unicode, binary SMS and flash messaging.
Supports extended length messages..
Delivery acknowledgement and Sender ID can be set up..
Gateway escalation: Should the message be delayed for a predefined length of time, it can be escalated to an alternative delivery gateway. Queuing lets you specify up to 3 prioritized queues which your messages can be sent out on..
Specify a delay of up to 7 days when sending messages..
Your connection is language-platform independent.